AFA International
AGENCE FRANCO - ALLEMANDE INTERNATIONALE
Your French Riviera Real Estate Specialist since 1988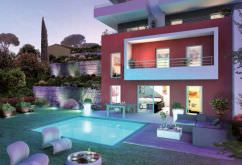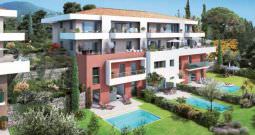 ◀
▶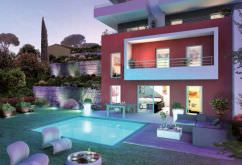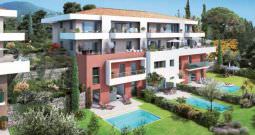 Condition:
Under construction
Type of Area:
Near town/ village center
Price: from 305,000€
This new luxury residence consists of beautiful apartments and duplexes set in a quiet Mediterranean garden and offering stunning views of the sea and surrounding green hills
The layout of the living areas ensures perfect fluidity of movement, while their ideal exposure offers plenty of light. In addition, terraces and balconies up to 40 m2 give unobstructed views of the surrounding nature and also splendid sea views for some apartments
The residence features contemporary architecture with clean lines whose elegance is highlighted by the façade's grey and white colours. The orange-red colour of some sections of wall, characteristic of the traditional facades of Nice, also brings a touch of dynamism to the construction. The play on volumes of the balconies animates the building and gives it a refined look. Low-rise, consisting of three buildings harmoniously arranged on the terraced grounds, the residence has been created with privacy in mind. The estate, which overlooks a vast, non-constructible
area of land below, is a jewel in a natural setting to ensure quality of life and serenity.
Availibilities and prices (subject to change at any moment - contact us for the latest update)
- 1 bedroom - 36m2 & 40m2: € 218.000 & € 238.000
- 2 bedrooms - 56m2 to 70m2: € 305.000 to € 395.000
- 3 bedrooms - 80m2 to 101m2: € 400.000 to € 530.000
At this stage adjacent apartments could still be merged to obtain larger surfaces
Garage: € 26.000 to € 28.000
Nice apartments for sale, French Riviera new apartments, sea view apartments in Nice
Features
Email This Property
Mortgage Calculator
Schedule a Showing
Property PDF file
Direct Inquiry